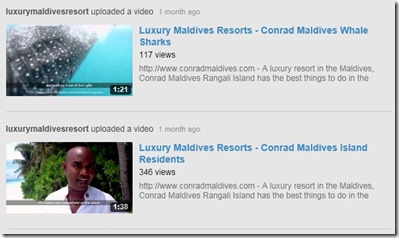 And the winner of the 'Best Online Video Series' for the Maldives Academy Awards goes to…[drumroll]… Conrad Maldives Rangali
One of the first things I put on the design list for the Maldives Complete Resort Profiles was a link to videos. No matter how professional the sumptuous photography of this colourful paradise, a video is worth even more words than a picture. Even photographer extraordinaire Sakis Papadopolous has started doing more videography in his Dreaming of Maldives portfolio.
At first, I was quite frustrated by the available videos of the resorts. The worst were the pictures-set-to-music (with a bit of special effects thrown in). These slide shows really added nothing (except saving some the mouse clicks of going through a gallery. Other clips were amateur holiday clips that sometimes provided a quite thorough guided tour of the island (for the entertainment or envy of their friends and family back home).
We are starting to see some really comprehensive and well done videos on the web now. Leading the way is Rangali who have introduced their own YouTube channel of nicely done videos of everything from the Spa Experiences to Resort Jobs (subtitle: "From Life As A Submarine Driver To Window Cleaner At The Underwater Restaurant.")
Sunshine, Camera, Action!