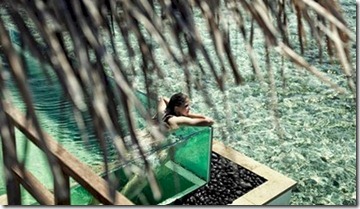 Perhaps the most tragic natural disaster of the decade, the Boxing Day Tsunami, happened eponymously today. While hitting the hardest in its South Pacific epicentre, its titanic power travelled thousands of miles to the Maldives who suffered fatalities and much loss (which on a per capita basis was actually one of the hardest hit countries in its path).
One of the resorts hit hardest was Four Seasons Kuda Huraa (in fact, a work colleague was a guest on the island that day) so today's post features on of their distinctions. In fact, it features something more Maldivian-like and completely un-tsunami-like.
A tsunami is so antithetical to the mill pond like stillness of the typical Maldivian seas. Swimming in the Maldives is like swimming in an aquarium. And, at Four Seasons Kuda Huraa you can actually 'swim in an aquarium' of sorts as well in its glass walled private pool (see above). However, it is only stocked with with the aquatic species Guestus Bikinius.