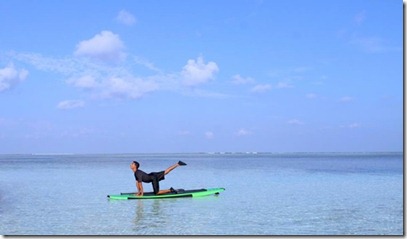 In the Maldives, it's all about the water. Many yoga sessions are often at water's edge. But Four Seasons Kuda Huraa has taken that aquatic intimacy one step further.
"Resident yogi began offering Paddle board Yoga about 5 months ago and has been doing this on a guest request basis here at Kuda Huraa." GM Tulio Hochkoeppler
I've always been intrigued by those big exercise balls which provide a soft, unsteady platform which target the core muscles used for stability. If you thought balancing on land was tricky…
While FSKH's sessions are literally as close to sea level as you can possibly have a yoga session, if you prefer the other extreme, check out Slovenian climber Martina Cufar's nosebleed sessions.