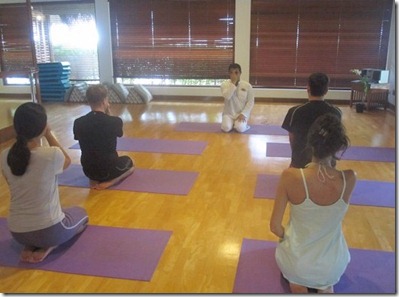 Happy Birthday Lori!
My devoted partner in adventure, my dive buddy, my sunset companion.
In honour of her special day, today's post was selected by her. Very often I just can't see and do everything on a resort in our short visits and so she ably and enthusiastically (most of the time) steps in to check certain things out. When Kanuhura suggested their 'Pranayama' yoga class focusing on breathing, she was not only keen, but also quite the expert on the subject. Lori recently finished her third graduate degree in the voice (Masters of Music, Masters of Voice Pathology, Speech Language Therapy Diploma) and knows a fair amount about the old wind pipes. When diving, most of the time she comes up with more air remaining in her tanks than the seasoned dive masters (so I would recommend the class not just for yoga enthusiasts, but especially for divers who want to improve their air usage).
Kanuhura describes the class as…
"Controlled breathing technique positively influence and release the flow of energy channels purifying, regulating and activating them creating physical and mental balance."
Her assessment – "Brilliant introduction to basic yoga techniques focusing on the breathing." If it impresses Lori then it is truly distinctive.