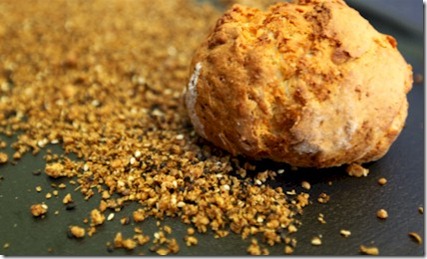 One of my favourite mixes I have ever had in the Maldives wasn't alcoholic. In fact, it wasn't even a drink. It was Mirihi's "Dukka" bread dip.
A mixture of crushed Macadamia nuts, Haelnuts, Pumpkin seeds, Sun Flower Seeds, Coriander seeds, Cumin seeds, Fennel seeds, Sesame seeds, Black Pepper Corn, Cinnamon, Cayenne, Bread crumbs and sea salt. It was served with virgin olive oil and freshly baked bread. It was the first time my wife and I have asked for a recipe (though we did clone a dish of mango chicken salad we adored at Coco Palm Dhuni Kolhi). When we asked for it, it was all printed out for us by the end of our meal.
One of the subtle touches that distinguishes different star categories is the 'treats', specifically, (a) the bar accompaniments, and (b) the Welcome treat. But, I would add the pre-dinner treats to the list. Any 5-star worthy of the grade needs to offer some sort of curious and tasty amuse bouche. But just as important is to treat the obligatory bread basket as a delicacy and not an after-thought. This over sight was one I experienced at the otherwise distinctive, Michelin-starred 'Mistral' restaurant at the hotel Serbelloni in Bellagio, Italy. Creative and remarkable dishes introduced with a pedestrian table ornament of lacklustre bread. 5-stars really need to have fresh, warm bread, but the super-premiums (5+*) really need to add some sort of equally appetising accompaniment like a tasty tapenade…or Mirihi's special dip.