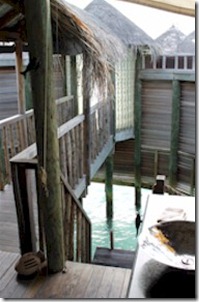 Like glass floors, private back areas are another prominently requested feature for Maldive villas. Especially for modest Middle Eastern women who prefer not to wear skimpy beach clothes in public view. Also, the numerous honeymooners that flock here like a little privacy to take the 'P' out of 'PDA'.
Most villas in the Maldives have some sort of private back area, but they differ widely. From just enough space for an outdoor shower to expansive, walled gardens with private pools and other amenities. That is why I include a picture of the back areas in the Room Type Profiles.
Now water villas have the entire ocean for their 'back area'. Great for sunsets, marine life watching, handy snorkelling, and lovely ocean views. Regardless of the screens, walls and configuration, not super for privacy (at least from the ocean side). But Gili Lankanfushi has private ocean swimming areas on its water villas. Areas of the sea walled off 360 degrees that you can swim or whatever in. Sort of its own version of private 'water closet' altogether where you don't just see the lagoon, but you are in it.
Don't get too bold in the ostensibly private setting. The water is eztremely clear and people could probably see a bit of what is going on from the adjacent walkway at least some of whatever is under water.