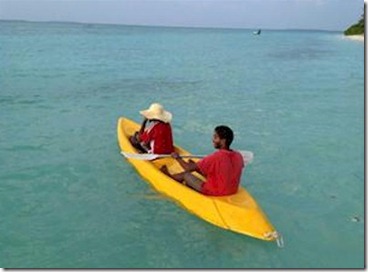 The 'safari' chic ambience of exploring remote and exotic lush landscapes packed with colourful flora and fauna permeates the Maldives. The 'Snorkel Safari' is a staple of any visit, and various resorts have extended this theme with 'safaris' of other types. As a result, I was immediately drawn to Olhuveli's announcement this year of a special 'Canoe Safari'…
"Situated on the tip of the water sports haven South Malé Atoll, Olhuveli Beach & Spa Resort has just launched a brand new canoe safari, ideal for those wanting to step off the island and enjoy its sparkling, shallow lagoon, deep channels, numerous sandbanks and even a private island. Suitable for both active families and adventurous couples, this self-guided safari offers the ultimate day out. It includes canoe hire, a picnic to enjoy on neighbouring Dream Island and snorkel and fins – for intrepid water-babies who want to dive into the deeper blue waters and explore the resort's house reef."
In fairness, I was hesitant to do a piece about the activity. It seemed like something that you could do at many resorts who offer canoeing. But, I do take my hat off to Olhuveli for putting it together as a package, while in every other resort I've seen with canoeing you would have to take your own initiative to put together all the stuff for such a waterborne adventure. Most people aren't typically bold enough to row out into the open ocean so it's a good thing for the resort to structure it as an activity making them feel more reassured and not have to think about whether they have everything they need for a fun and successful outing.
The water-proof case is a big asset for bringing key items that you would otherwise fear getting wet (or worse, lost if they fell out of the boat with a mishap). Olhuveli has the bonus asset of the nearby Dream Island that gives one a practical destination for the safari sortie (some resorts have such handy and nearby, ie. paddle-able, island, but not many).
Finally, Olhuveli's Watersports World has gone one further offering a similar package for people preferring more wind-power with a 'Catamaran Safari'. As such, I've dubbed the piece 'Eco-Water Safari' because while other resorts offer motorised safaris (eg. jet ski, dhoni), Olhuveli's are non-motorised.