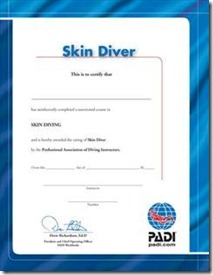 If the Maldives has the best snorkelling in the world, then why not the best snorkelers in the world. Perhaps the most unsung PADI course of all is its "PADI Skin Diver" certification which teaches basic skills of snorkelling. Most guests heading to the diver centres are mostly the hard core divers, though many dive centres do coordinate snorkel safaris and manage the snorkelling gear.
The PADI web page describes the course…
"The PADI Skin Diver certification helps you get – and keep – your fins wet. While snorkelling is limited to peering down from the surface, skin divers generally venture further than snorkelers, making frequent surface dives to interact with aquatic life, up close and personal. The course provides basic information on skin diving equipment, dive science, the environment, problem management and safe skin diving practices. Inwater training includes various techniques for donning and adjusting equipment, entering the water, checking buoyancy, surface swimming, clearing water from your snorkel and performing effortless surface dives.To enroll in the PADI Skin Diver course, you must be at least eight years old [and] comfortable in the water…And, when you've finished the course, you'll get a PADI Skin Diver certification card for your efforts and be ready for your next adventure. The PADI Skin Diver course teaches you to use basic snorkelling equipment including a mask, snorkel, fins, buoyancy control device (BCD), exposure protection like a wet suit and dive weights as needed."
I think that this would be a great activity for family with young children (over 8) to all do together and help acquaint them with some of the finer points of this signature Maldives activity. It would help them to get even more out of their entire stay.
I was introduced to the course by Vakarafalhi, but many other resorts offer the programme such as Kandooma, W Retreat, Hyatt, Conrad Rangali, Sheraton Maldives, Dusit Thani to name a few.