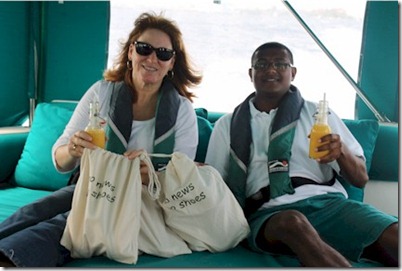 "Simplicity is the ultimate form of sophistication." – Leonardo da Vinci
Gili Lankanfushi seems like is as designed by da Vinci. A Maldivian masterpiece with artistic flair and clever creativity, but at its core a pervading since of simplicity. That quality is what draws so many people to the Maldives and back again in the first place. A week or more of the simple island life. A plot of sand and a palm tree. What more do you need?
And it all starts with no shoes. I mean, it literally all starts with no shoes. When the speed boat transfer welcomes you on board with its fresh juice in simple bottle, the very second briefing they do (after safety) is the 'no shoes' ritual. One of the great charms of the Maldives is the extent to which you can just go barefoot everywhere. The soft sand is not solely the domain of the turquoise seashore, but invades the reception, dining areas and pretty much every nook and cranny of the best resorts like Gili. On most of my Maldivian holidays, we take our shoes off when we get shown to our villa and we don't retrieve them until it is time to check out.
Gili delightfully ritualises this ethos by inviting guests to remove their shoes immediately right on the transfer boat. (see above) The boat captain explains the 'No news, no shoes' ambience of the resort and hands out special little canvas bags for you to put your shoes in (so the staff can take you shoes to your room with your luggage). It has all warm and inviting grace of an Asian home. I always feel a bit more intimately welcomed in a home where you are encouraged to take your shoes off. I don't wear shoes around my own house, and when I take them off in someone else's, it's like I'm at home myself. It is a smart move by Gili because no matter how obvious it seems to walk around shoeless, the practice so extreme in Maldive resorts and a fair degree uncommon in posh resorts around the world, that we see many people not really getting the hang of it until well into their stay by which time they've lost a few days of barefoot bliss.
I was intrigued to compare Gili with Mirihi which is a resort renowned for its simplicity as well and which I coincidentally also visited this tour. They are both stunning resorts made more so by this emphasis on no-nonsense naturalness. Curiously, they go about it from completely different directions. Gili is a big resort that simplifies by eschewing the little things; Mirihi is a little resort that simplifies by eschewing the big things. Mirihi has elected to avoid major items in their resort concept – TVs, pool, tennis courts. Gili simplifies by stripping away the little frills and trimmings. One of their big little touches is that they don't garnish their drinks. No lemon slices stuck on ther side of the glass, no maraschino cherries with toothpicks in them, no little colourful parasols. All of the resort's design reflects this approach of clean, straightforward, unadorned simplicity.
The aesthetic cousin to simplicity is nature. And nature is just as fundamental to everything at Gili. The striking seating made of tree root (see below) are found everywhere. I was regularly struck by the innovative ways in which they were able to incorporate a natural approach. They have air conditioning in the bedrooms of their villas, but otherwise all other areas (bathroom, lounge) are all refreshed naturally in the open air (which works well since all of Gili's villas are over water). Even the coat hangers in the closets are made from sticks and coconut hemp rope.
The 'No Shoes' custom is just the tip of the thila to a deep and colourful simplicity that permeates Gili Lankanfushi. This simplicity is the heart of their concept and is reflected in every little detail. I won't go into to many details here because I want to write about several as their own 'Best of the Maldives' features in the future
Gili Lankanfushi exemplifies simple rustic elegance.