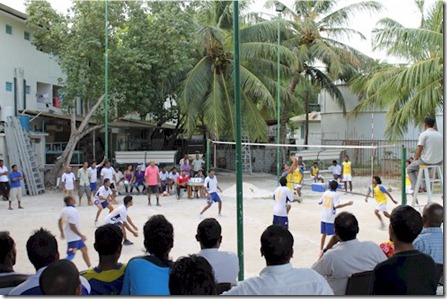 Let the games begin.
London proudly hosts the world this fortnight and Team Maldives has arrived to compete in badminton, athletics and swimming.
If the Maldives ever hosts the Olympics, the first sport sorted will obviously be beach volleyball. Beach volleyball is super popular in the Olympics and was the second fastest sell-out of tickets after Athletics. Lots of resorts offer great beach volleyball courts and many of the resorts sport quite competitive teams, but the Wembley of the beach volleyball circuit is on Paradise Island.
The resort pitch includes lighting (for night games) and a sheltered (against sun or rain) seating area. The picture above was against Club Med (playing in yellow and blue) where there was quite a buzz with a crowd of both staff and guests.
I made the quick switch from Maldives-trotter to flying over to New York to help with NBC's Olympics coverage so I'm getting lots of beach volleyball, football, table tennis, field hockey and a dozen other sports on the go at any time.
I love the Telegraph's profile entry on their Maldives in their Olympic guide which could almost serve as a cheer for the Paradise Island beach volley team: "The country's history in six words – Paradise, paradise, paradise, tsunami, paradise, paradise."