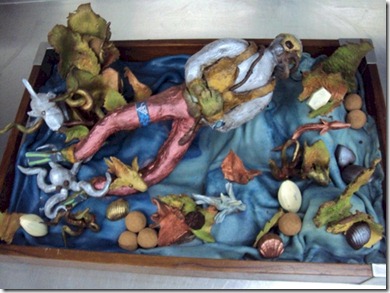 Another natural aphrodisiac and a romantic way to start any date is chocolate. And Sheraton Full Moon has concocted an elaborate confection with a sub-aquatic theme. The picture above says it all.
"Only made with chocolates…Created by our Pastry Chef for one of our loyal divers at Euro-Divers"
I reminded me of one of Heston Blumenthal's signature dishes at the world famous Fat Duck restaurant called 'Sound of the Sea' ("[eaten] while listening to to waves crash through an ipod located in a giant sea shell. The dish was presented on a two tier wooden and glass board and was topped with sashimi of brilliantly fresh tuna, halibut and mackerel on top of 'sand' made out of spiced tapioca and a shellfish foam"). The Full Moon has confined itself to one main ingredient – chocolate!