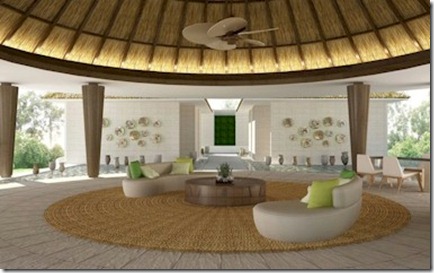 If your 'dreaming of Maldives' gets interrupted while you are dreaming IN the Maldives, the Niyama can still keep you from toss and turning and provide a relaxation treatment to help you out. Or you can try to burn off some off that restless energy at their gym..
"A first in the Maldives, LIME Spa at NIYAMA will be open 24 hours. Treatments will utilise and infuse indigenous holistic components from around the globe to create unique experiences. LIME will include his and her beauty salons, a contemplation garden and Quench, the juice bar. Each of these areas will be designed to heighten guests' relaxation, allowing them to enjoy the tranquillity and space around them. PUMP the 24 hour gym will be equipped with state of the art gym equipment for those looking to maintain their routine or try something new."
To some a 24-hour spa might seem a bit pointless, but I can imagine many scenarios where it would be a godsend. For starters, many people visit the Maldivse from far and wide. Very far…which can mean big time jet lag. You can't sleep, but what can do you? The other scenario is a very real danger that my wife Lori and I have been hit with a number of times…over-relaxation. Yes, I know some of you would find this malady inconceivable and have a virtually genetic immunity to it. But, a number of times my wife and I have woken up at crazy hours unable to sleep and the sense was that we had just over done the relaxation. Between the sleeping in, lounging on the beach, and dozing by the pool, we just could manage any more shut-eye in the day (or night).