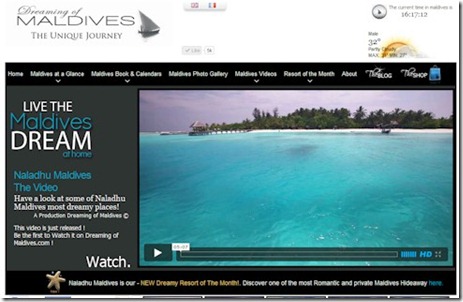 Facebook, Twitter, Forums, Foursquare…all of this look a social media and I have not yet looked at one of the big ones, YouTube.
As it happens, the best eye to Maldivian spectacle has expanded his lens from photography to videography recently. Sakis Papadolpolous now has a collection of video vignettes for resorts he has produced available not just on his own Dreaming of Maldives site, but also on Vimeo and his own YouTube channel. They are simply the best resort videos going. Sakis does produce some seriously beautiful staged 'mood' shots to highlight a languid hammock or a tantalising cocktail. But he also includes plemty of panoramic material which provides a good perspective on the look and feel of the landscape itself and facility itself.
Since the inception, I have included a video of the resort in the main Profile page if there was a decent video available on YouTube. I limited myself to YouTube do to the ease of embedding into the Profile page. I limited myself to'decent' because I loathe those fake slide-show "videos" (in air quotes) which are just the picture gallery set to music with some tired transitions. Many of my resort clips were guests simply doing a walk through to capture a feel for the resort for their friends or their own memories. Production quality not be much, but their utility and effectiveness to give people an authentic feel for the resort is invaluable.
Video is definitely taking over the web. A decent video of your resort is as much online table-stakes as an FAQ, map of the island and contact details.
I've now changed the videos in the Profiles to Sakis' pieces for the resorts that he has done so far – Six Senses Laamu, Huvafenfushi, Dhonakulhi Island Hideaway and Lily Beach. Hopefully, more resorts will produce such vivid illustrations and hopefully, they will all use Sakis' artistic talents to do so.