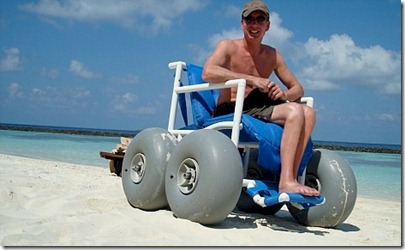 Nighttime arrivals aren't the only difficult and awkward movements in the Maldives. For many disabled or mobility challenged guests, the ubiquitous sand only makes footing and moving around problematic. Not at Baros though where the resort offers the latest in beach mobility. The Daily Mail covered it in its piece "Meals by moonlight, diving with sharks and rolling on Beach Wheels in the mazy Maldives"
"My eyes also fell on another device that looked as if it had been lifted from a Nasa lunar project. Beach Wheels was an aquatic wheelchair, an Australian invention with huge tyres that allowed someone like me to glide smoothly over the sand or be dumped neatly into the sea."

How people use the beach wheel chair? 
"Disabled guests who asks for the wheel chair are provided with our Beach wheel chair. It has big air filled wheels and therefore is easy to manoeuvre on sand, even on the most soft one. One person has always to be there to push the chair."
What people have said about it?
"People are really happy about it, as it is incredible convenient for them. We offer it also sometimes to guest, who have problems to walk or are injured – they are really impressed by this service."
Anything surprise you about its use when you got it?
"Not really surprising but interestingly – even if it was not built for that usage – guests tell us, that they feel like being able to float in the water. It is made of very strong material like fibre glass, and therefore does not rust at all."