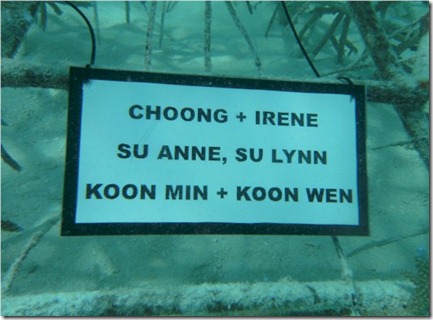 While for many the downsides of big lagoons are their less dramatic snorkelling and more remote house reef, many resorts now are using Reefscaping to both enhance the snorkelling in the lagoons as well as the aquatic environment overall. In fact, Lori and I have our own frames presented to us by Four Seasons Kuda Huraa (#KH327) and by Four Seasons Landaa Giraavaru (#LG729 – which we assembled together at their Marine Discovery Centre).
Now many resorts are getting in on coral reef regeneration – Constance Halaveli, Coco Palm Dhuni Kholu, Waldorf Astoria Maldives, Banyan Tree Madivaru, Baros. But Kandooma led the way and was the first project I covered.
They've added a touch with I think both personalises and incentivises this fine initiative – labelling the frames with the donor names (see photo above…'Su' is no relation). I am involved with a number of charities and in fund raising (especially capital drives), the first question that you ask is 'what are the naming opportunities?' American Universities have this down to an art form where just about every light switch has a mini plaque honouring the gift of some patron. Yes, people are generous and do give just for the sake of the cause. But people also have a bit of pride and getting their name (or the name of a loved one) marked indelibly on a place or thing that means something special to them is a huge boost. I also think that the approach adds a certain personality to the Reefscaping project. You can see the diverse people, with names clearly from many different countries and cultures, who have all converged to contribute to making this place of earth even more of an aquatic treasure.