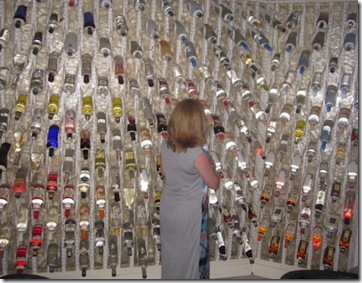 Today is the Red Bull Air Race over Hulhumale capping off yesterday's Red Bull Air Show (see photo below)
The classic, near iconic, Red Bull cocktail is the 'Vodka Red Bull'. And if you are looking for the best place for vodka, the barn storming winner is without doubt the W Retreat. Specifically, it's night club '15 Below' which prides itself on its dozens of varieties of vodka on offer in its vodka wall (see photo above).
Their most unusual vodka is Roberto Cavalli from Italy. Their most popular vodka cocktail is 'Kiwi Spring'.
Right up there with the Ice Bar at the Ice Hotel as one of the best vodka bars in the world.
Check out series of videos from the event on YouTube.