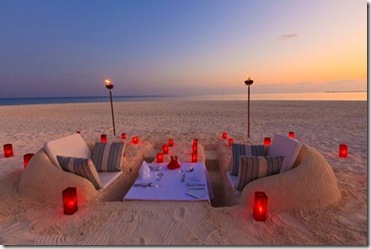 Dining on the beach is pretty standard now, but dining 'in' the beach? There are 'beach chairs' and then there are 'beach'-chairs. As in 'made out of beach'. And I don't mean 'beech'.
If you like getting down for dinner, then Velassaru takes 'sand between your toes' dining to a whole new level. A level down into the sand for sand between your toes, legs, and anything else.
I've always been a big aficionado of beach dining in the Maldives and have been frustrated when resorts sequestered guests off into to cinder block dining halls for meals.