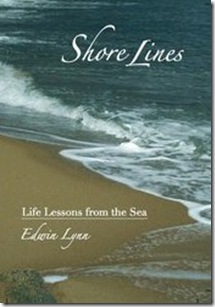 Happy Birthday Dad.
Today is my father, Edwin Lynn's, birthday. And probably his best present is his recently published book 'Shorelines'. It's a present for himself to see this distillation of a life's work of insight and reflection come to reality. It is also a present to everyone who is inspired by the ocean and draws wisdom and serenity from it. As such, it seemed to be just right for the Maldives.
I grew up in a seaside town north of Boston, Massachusetts called Ipswich. It features one of the longest and finest beaches in the northeast USA…Crane Beach. It was there that my Dad would regularly brave the cold and sleep deprivation to catch a sunrise over the ocean. On a couple of occasions I was enticed to join this ritual lured more by the promise of fresh Marty's donuts at the end than the celestial spectacle.
My Dad always favoured seaside holidays and during them got even more opportunity to watch the sunrise (or set on western shores). My Dad even got the opportunity to visit the Maldives when we took my parents to Conrad Hilton Rangali in 2000 (see photo below). Of course, one of the great luxuries of the Maldives is that you can easily watch both sunrises and sunsets!
In honour of 'Shorelines' and the lengthy, white sand Crane Beach that inspired him, today's 'Best of Maldives' is its Longest 'Shoreline' or really 'Beach'. A number of islands have long shorelines, but they interrupted by structures or rocks or something else blocking the way. According to Maldives legendary guru, Adrian Neville, Kuredu is "still the longest beach and so fine". This assertion is confirmed by the island size data in the Maldives Complete database.  Gan is a very long island, but the 'resort' beach is limited. Kuramathi and Palm Beach are also a longer islands, but the 'beach' is broken up by infrastructure and some inaccessible rock/coral croppings.
May your shorelines be as refreshing and inspiring as a Maldivian sunrise.