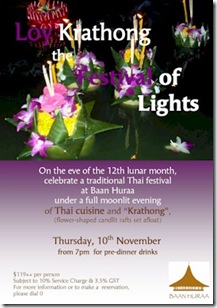 Happy Loy Krathong!
"On the eve of the 12th lunar month, Anantara Resorts Maldives is proud to present a traditional evening of Thai cuisine and Krathong – flower-shaped candlelit rafts – in celebration of Loy Krathong, The Festival of Lights, under a full moon at Baan Huraa restaurant. As a resort company steeped in heartfelt Thai hospitality it gives us great pleasure to introduce and celebrate one of the most beautiful Thai festivals with our story-collecting travellers from around the globe. Our resorts encapsulate the excitement of discovery and exploration that comes with entering new territory and, though we are celebrating the Festival of Lights outside the Kingdom, I cannot think of a more perfect setting than the greatest paradise on earth to express good wishes to our guests and team members and to look to the future as we float our floral offerings on the night."
With its romantic trappings (full moon, flowers, candles), as well as its aquatic and even ecological origins, the Maldives has to be one of the best places on the planet to celebrate this endearing Thai holiday…
"Popular legend holds that the celebration is an expression of gratitude to the goddess of water 'Phra Mae Kongka' for having extensively used, and sometimes polluted, the water from the rivers and canals. It is also in part a thanksgiving for her bounty in providing water for the livelihood of the people."
And in the Maldives, there is no better place to celebrate anything Thai than Anantara's three conjoined properties: Dhigu, Veli and Naladu. Anantara is itself a Thai company which explains its exceptional catering to all things Thai. Their spa is heavily Thai themed with Thai treatments and therapists. In fact, Anatara has one of the most relaxing greetings in the Maldives as its therapists come out to reception and give all arrivals a brief, complementary head and neck message in reception. They obviously have a Thai restaurant, Baan Huraa, which is certainly one of the best if not at least the most authentic in the Maldives. It even features a vintage Thai wine 'Dranmonte' (vintage) according to Bala, the resort sommelier.