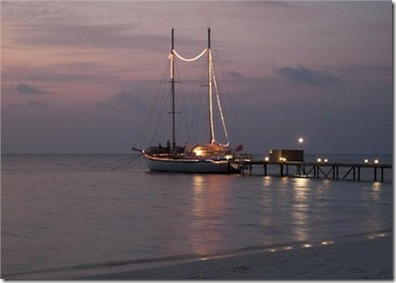 The wooden deck of a classic schooner…the perfect romantic complement to a ocean adventure. Many resorts offer various boat trips for sunrise and sunset cruises with a whole range of boats. But if you don't want to pay a supplemental excursion fee and or if your sea legs are not the best (though with the calm waters of the Maldives, seasickness is rarely an issue), then Meeru offers a nautical evening for its guests without any extra costs (aside from the food consumed in its restaurant) and without leaving the dock.
It has turned the Goma sailing ship into one of its resort restaurants. As it happens, my family took a sunrise cruise on the Goma back when it was part of 'Rangali' (then known as 'Hilton Rangali) before its retirement into stationary culinary service.
"Goma was built by Philippe Laurella, in 1992, on Velidu, a local island in Noonu Atoll, in the northern Maldives. In Dhivehi, the local language, Goma is an ancient royal title, reserved for a princess. Philippe, a Frenchman, arrived in the Maldives in 1978, fell in love, marrived a local woman and works as a boat builder, fisherman and artist. Goma is 22 m (70 feet) long by 7 m(23 feet) wide. Her built up area is 196 cm and she displaces 39 tons. Her hull dimensions reflect the traditional dhoni design that the hull is 1/3 the length, providing better stability. In 1993, Goma was purchased by Afeef, the Owner of Meeru Island Resort, and operated as a safari boat."
It's complete menu and further background is available here.