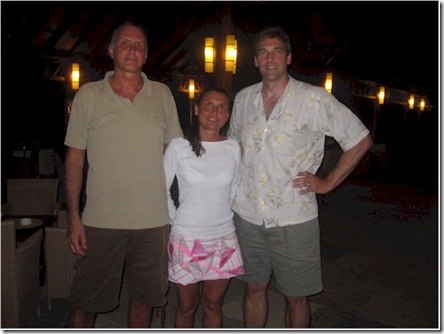 Italy has one of the strongest heritages in the Maldives along with the British and the Germans. At least half a dozen resorts are primarily Italian in clientele and background. But the 'nonno' of them all has to be Palm Beach.
Over 85% of Palm Beach's guests are Italian and nearly 100% during the peak holiday season of this month. They attract the glitterati of Italian society from Italian movies stars and footballers to prominent politicians and business leaders. This dominance is evident in the prevalent Italian fare on offer down to the San Pelligrino water as well as a very Mediterranean family vibe throughout.
So how would one determine the 'Best' for Italians? Well, for starters, it might be the place where the Italian experts on the Maldives so on their vacation. And by total coincidence, the single day that we stopped at Palm Beach was the final day for Roberta Migliarini and Paolo Bellici, founders and operators of not just one of the top Italian sites on the Maldives, but one of the top sites worldwide – MondoMaldive.
As if their own presence wasn't testimony enough, I did ask them what they thought the best islands for Italians would be in the Maldives. They wouldn't be drawn into declaring Palm Beach the best, but it was very clear that they thought extremely highly of the place. They tried to make a case for some of the others, but just didn't convince me that the others were superior (unless you wanted something different in atmosphere or offerings.., my saying 'there is no best island, only the best for you island').
We spent the evening chatting about all thing Maldives. By further coincidence, I had just bought their guide book MondoMaldives at the airport gift store on arrival. Like their site, surely the most comprehensive resource on the details of the various resorts. They inscribed my copy "Per le vostre stresse nostre passione per le Maldive." And to top it off, they presented me with an official MondoMaldive t-shirt (see below). Note to resorts and entrepreneurs – the MondoMaldive t-shirt features the words 'I love the Maldives' in the native language of Dhiveli which attracted constant remark and attention from all the Maldivian staff who saw it throughout my stay. Someone should ask MondoMaldives about selling their t-shirt as well as their book. They are a great couple as friendly and warm as their website is comprehensive and useful. I can see why their Forum is such a hit (unfortunately, it is only in Italian).
Because the resort is so popular with Italians, it is a bit unsung in other countries, but Palm Beach welcomes all nationalities enthusiastically and noted that a steadily growing number of British have discovered its charms.
Ciao bellissima Palm Beach!