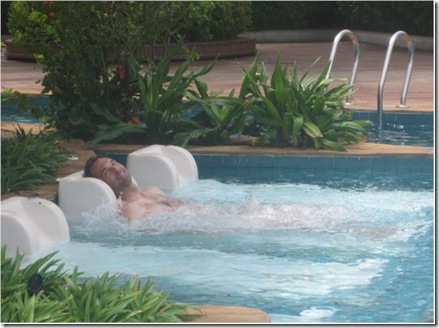 Perhaps the most relaxing times in our decade and a half of visiting the Maldives were lounging by the pool. Kanuhura has turned that relaxation into an art.
First of all they boast one of the largest pools in the Maldives. A contortionate, curvaceous beast like some sort of voluptuous gymnast. As pleasant on the eye as the soothing to the skin.
Then they add a unique in its own right…a bank of Jacuzzi loungers (see photo above). Not a separate jacuzzi, but a air jets right in the pool. And not some little space where you sit on some bench-like contraption trying not to inadvertently play footsie with some other guest who happened drop in. Your own, full-length, individual, head-propping, leg-stretching lounger. In the pool.
To top it all off, they have simply the most elaborate pool-side service I have come across anywhere. More on that in a future piece, but just hint of it…'sun glass polishing service'.
Ahhhhh.
resort