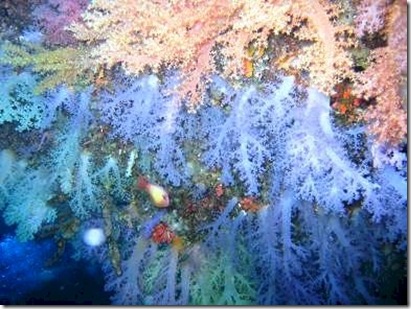 The Maldives are renowned for simple, easy, shallow dives. But for the advanced diving plenty of more technical dives abound. For example, there are over a dozen caves structures you can dive
And if you are interested in cave dives, I recommend Tim Godfrey's book 'Dive Maldives' reviews 12 of the top cave dive sites in the Maldives. You might have put an alert for on Amazon since the book appears to be out of print and is increasingly hard to locate. All of his dive sites are graded on a 3-star scale and 4 of those 12 earn top marks – Lankan Caves, Maagiri Caves, Fulidhoo Cave and Velassaru Caves.
But the Mecca for cave diving in the Maldives has to be Helengeli as it has two of the top caves nearby- Trixies Caves and Fairytale Reef Blue Caves. Both receive 5-stars in Harwood & Bryning's 'Complete Guide to Diving and Snorkeling The Maldives'.