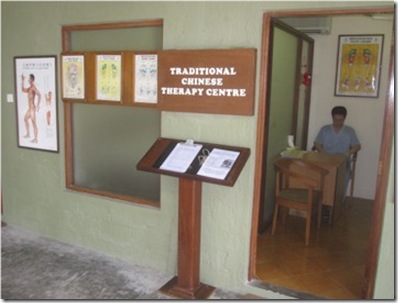 Looking for am apropos hangover cure from your Chinese New Year celebrations? Well, you might want to stop by the 'Traditional Chinese Therapy Centre' at Club Rannalhi.
Liu Yaping offers a range of treatments which are mostly variations of acupressure massage such as "Tui Na" and "Chinese cupping". Most treatments run about $60 for an hour session
Disclaimer – I am not a fan the many disastrous environmental effects of many traditional Chinese therapies that call for ingredients of rare species like tigers, rhinos and most relevant in the Maldives is manta gills. Most holistic therapies are harmless placebos which provide comfort. But when a billion people with increasing amounts of money start wanting these obscure ingredients, the side effects for the planet can be tragic. Fortunately, Club Rannalhi's therapy centre does not offer any of these ingredients based on endangered species in its treatment offerings.
While other resorts have spas offering Chinese treatments (eg. Shangri-La Villingili, Olhuveli, Soneva Fushi, Meedhupparu), the Rannali centre is the only one who specialises in just this area.