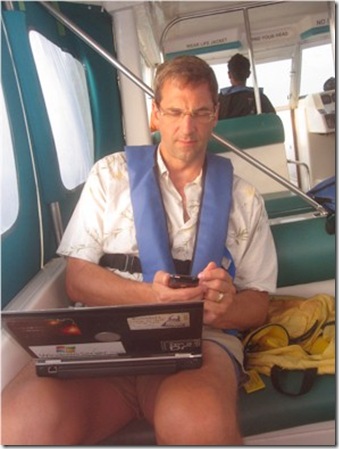 I never thought that I would use the words 'frenetic' and 'Maldives' in the same sentence, but that was my past week seeing 9 resorts in 7 days including 5 stops at Male airport for transfers. The objective of ferreting out a number of unsung quirks and curiosities exceeded every expectation.
I also came to some broader upbeat realisations about visiting this paradise…
Elephants can dance – I have always gravitated towards the smaller islands in the Maldives. The one step up from the plot of sand with a palm tree on it. To me the small islands exemplified the Robinson Crusoe fantasy. But serendipity brought me to a number of larger properties and I found them universally packed with their own charms and assets.
Weather – Don't sweat the weather forecast. I checked the weather forecasts before our departure and it was calling for 'Scattered Thundershowers' every single day. And yet, over the week, not one drop of rain fell on me. We had a shower overnight one day and on another day a brief shower hit while we were in the restaurant. We woke up to an overcast sky one morning, but were slathering on sun block hours later. Everything else was gorgeous sunshine with enough scattered clouds to make for great sunsets.
The Deal's the Thing – When looking for the right holiday for you, filter on what you want and look for the best deal. Most quality is proportionate the standard rates in most cases and the stars rating is not helpful as just about everyone is a 4-plus or 5.
Coral Can Come Back – Faster than imagined. Yes, it will take generations to rebuild reefs, but in a few short years you can really see dramatic growth. Active Reef Regeneration like Kuda Huraa's and Landaa's really inspired me, but also just places like the Vadoo reef showed vibrancy I have not seen for a while.
Food patience – It's hard to get food right. Not one resort consistently blew me awayon the cuisine front though there were many memorable highlights. The best food works with the relatively local ingredients (tropical fruits, fresh seafood), but I appreciate the challenge of parochial visitors who either (a) want their familiar meat-and-potatoes or fried-rice, or (b) want more variety.
Rise of China – Anyone who thinks that China's prosperity is about a bunch of factory workers getting more rice might want to look at the Maldives' visitor statistics. In 2010, China rose to the top of the table as the country sending the most visitors to the country's resorts (maybe I need to do a Mandarin version of Maldives Complete insightful remarked my friend Alex Weindling).  It wasn't just an empty or dry statistic, but you could see the Chinese every where I went.  One dive master commented that a real challenge (among many) to this shift is that the Chinese are generally pretty weak swimmers and many of them are getting into troubles in the ocean quite often.
I also had some downbeat reflections about the pet peeves that really niggle me…
No good tshirts on sale.
Eating set far from water or view.
Weak bar snacks (olives, crisps, peanuts).
Inappropriate 'pop' music (especially when played too loudly – more resort managers need to watch this short video clip).
In all, I uncovered 65 'Best Of' candidates on the tour. Next couple of weeks I will be featuring one of my favourites from each of the resorts.