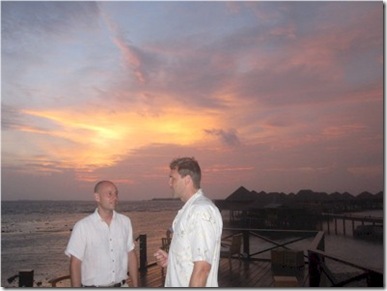 Adaaran Presitge Vadoo exemplifies the ethos of 'less is more'.
Less size (one of the Maldives' tiniest resort islands). Less activities (no watersports centre, though access to the one at their sister resort at Club Rannalhi). Less food (none of the ubiquitous buffet). Less beach villas (none, actually, as they only offer water villas). It is a paragon of tasteful understatement.
The biggest 'less' is the price. Vadoo is positioning itself to battle in the 'super-premium' segment (5+ stars, whatever that means). Individual butler service, exquisite design, distinctive infrastructure. All for under £2000 per week, Vadoo is a super premium bargain.
Several super-premium resorts have piled on the glitz and bling and most guests that I have spoken to are not fond of it (though I definitely know there are people to whom that style appeals). For sun, sand and ostentation I would send people to Dubai. Dubai is even creating artificial micro-islands for those who want the mini-island experience.
Packed into its small scale were plenty of special treats with 11 Best Of candidates identified. Assistant Manager Alex Kovacs (see photo above) thought that the house reef was one of the best in the Maldives, so we had to check it out. It is certainly first class. It is a mere 20 metres from shore through an easily accessible channel. It drops off to a depth of about 30 meters and has a healthy array of coral. We saw a lovely turtle getting her morning spa treatment from cleaner fish as well as the biggest box fish we have ever seen (2 feet at least).
Style, service, distinctions punching well above its weight class measured in size of island or size of budget.