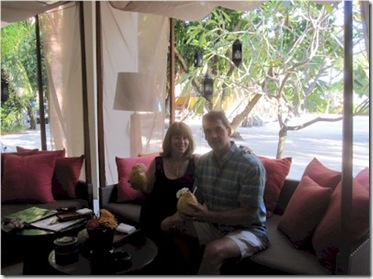 As a Craig Revel-Horwood would conclude…'A-may-zing!'
Without triggering a torrent of debate, Landaa's recent accolade for one of the ultimate 'Best Of' awards – Conde Nast's 'Best in the Maldives' – is no surprise. It is without doubt a contender for one of the top resorts in the Maldives.
As GM Armando Kraenzlin commented, "There is no perfect island". He is right there. Landaa does not have an easily accessible house reef with a big 'drop off' (though it has an impressive lagoon reef enhanced by its coral regeneration as well as very easy and plentiful snorkel excursions that just about make up for this shortcoming).
Landaa is also quite a large island which not every one's mug of tea (many prefer a setting closer to the 'palm-tree-on-a-pile-of-sand' idyll). But Landaa turns the scale to advantage with a sheer expanse of offerings and large accommodations (each villa is really the size of a small house with its own courtyard and pool). The obvious difficulty of getting around it minimised by a fleet of buggies which respond immediately.
Landaa's not perfect in execution and on the surprising rare occasion a service or serving would disappoint just a bit.  But boy does it aim for perfection.  I think sometimes the nit-picks stemmed from being so constantly spoiled that one's expectations just start to creep up stratospherically (and it is certainly one of the high end price resorts which will justifiably also fuel high expectations).
But what most captivates the most is the excruciating and creative attention to the tiniest details. Many of these will be highlighted in the no less than 16 'Best Of' candidates I scrounged up in my very short stay. I was often anticipating the very best and then found myself surprised by Landaa delivering something beyond what I had ever fantasized about. I also have a number of petty 'tests' that for me separate the royalty from the pretenders and Landaa passed every one (eg. excellent souvenir t-shirts, decent bar snacks, positively supporting the most quirky seating requests I could devise).
If you get a big bonus or budget and are looking for a resort with big things on offer and attention to the smallest finer points, then you can't miss with Landaa.