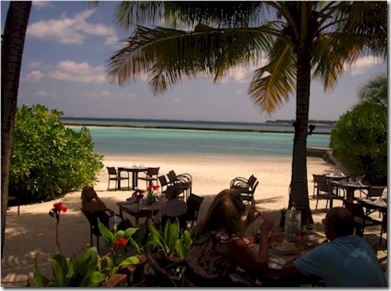 If Kuda Hura is a story of regeneration, then Full Moon is one of reinvention.
Kuda took a distinctive property and made it better; Sheraton took a weak property and shifted gears entirely. While Kuda moved up the league ranking, Sheraton changed leagues with a promotion to the Premiership.
Similar to Kuda Hura, I had always shied away from Full Moon because it was a larger island situated on a broad table reef (can limit snorkelling). I was always tempted by some of the juicy offers from its 3-star days when the big size often meant lots of unsold inventory. But, I always decided that there is no value if there is no quality. Sheraton has come along and recast the resort as a player that can stand proudly shoulder to shoulder with any of the other many 5-stars.
With all of the resorts asserting 5-star status, it made me reflect on what really determined that 5th star. First of all, you have to get the fundamentals down. No obvious gaps or weaknesses. But really that's just 4-stars and table stakes for playing in the 5-star big leagues. 5-stars calls for something exceptional. Something beyond the expected. It may not be best in class in everything, but it has to be in something. And, of course, the big driver to my visit this week has been to do research for Maldives Complete, especially the increasingly popular 'Best Of' section which showcases just these sorts of distinctives.
And Sheraton Full Moon didn't disappoint as I came away with 6 'Best of the Maldives' candidates (stay tuned for special postings on these). That is on top of the 'Best for Kids Club' and 'Best for Bartending' that have already been posted. I can now personally attest to the bartending kudos as I was served the best pina coladas I have ever had. And I always get pina coladas in the Maldives (a few years ago we had to put time and quantity limits on my pina colada consumption since I was starting at lunch and not being able to stand by dinnertime).
Other highlights were impressive but maybe not unique. They hold a weekly beach party with a DJ every Thursday night (lots of resorts have regular discos inside, but I love the notion of a regular dancing on the sand). The Euro Divers dive instructor Chris was the most fun, warm and engaging dive master I have met. Although I am an advanced diver, I am still a bit apprehensive especially with troubles I have equalizing. Chris was so supportive and attentive, it really put me at ease as evidenced by my longest underwater time ever (47 minutes) indicating how relaxed I was.
All in all, the best thing I can say about Sheraton Full Moon is that it thoroughly exceeded my big league expectations. That is quite a tall order for a resort asserting 5-star status and me being quite picky.