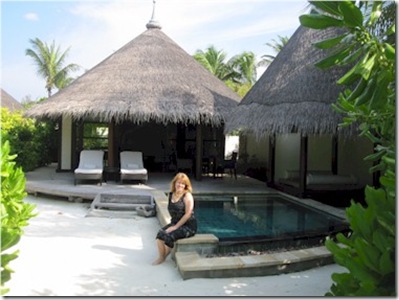 Kuda Huraa is an inspiration of regeneration.
Kuda's environment has imposed some challenges, and Kuda has both worked around them and in the process enhanced the environment itself.
Ironically, Kuda Huraa was the first island I was told not to visit in the Maldives a decade ago…wow have things changed. I was told that the beach was coarse…now it is flush with soft white sand. I was told it was stuffy…my visit encountered nothing but the most charming and down to earth people.
But the biggest transformation has been the snorkelling. Kuda Hura's geography means there is no real 'house reef drop off' accessible from the beach (though snorkelling excursions can be arranged easily enough for a reef snorkelling experience). And the waters close to the island are actually too shallow to snorkel in many places. In response, Kuda Huraa (in concert with its sister resort Landaa Giraavaru), have invested heavily in Reefscaping (also known as 'Reef Rehabilitation').
One of the things that make the Maldives unique is its snorkelling. Maldives' uniquely shallow expanses coupled with extensive reef development make it one of the tops in the world. Snorkelling is certainly a must-do activity in the Maldives, but many visitors have various concerns about it. Younger children need supervision and support, seniors are concerned about exertion and safety, people unfamiliar or uncomfortable with water need a calm and easy place to swim, handicapped people have their own special support needs. Lagoons can be great, calm, shallow places to try snorkelling, but unfortunately, a bit drab. Not much besides boring expanses of lifeless white sand and the occasional fish and rock.
But Kuda Huraa is an ideal choice for any of these beginner or tentative snorkellers. The Kuda Huraa lagoon is protected and yet, thanks to the extensive coral regeneration 'Reefscaping' initiative (300 frames installed to date), the Kuda Huraa lagoon is becoming a real underwater treat. It has the equivalent of a 'Coral Garden' that is being cultivated as carefully and successfully as an English country manor home's floral borders. As a result, Kuda Huraa's marine and coral biologists are creating a coral sanctuary that provides both a delightful haven for blossoming snorkellers and blooming coral alike.
And as a veteran snorkeller, who has explored countless sites of all types, my snorkel off Kuda Huraa was one of my most inspiring. I have been on a number of outings where much coral has died back sue to El Nino. However, the decay presents shades of what could happen with warming and acidifying seas. These past excursions were very depressing, like touring stark, coral graveyards. But Kuda Huraa inspired new hope. Every single Reefscaped frame was rife with intense new growth coral. Crisp and bright in countless branches. As I swam by frame after frame, it illustrated the potential that the world still has to bring back this underwater richness.
Four Seasons did not disappoint in delivering trademark luxury with its attention to detail, impeccable service, and no weaknesses. There are no shortcuts, no faded edges, nor neglected areas. In my brief stay, I identified 9 'Best of the Maldives' distinctions for Kuda Huraa (stay tuned for special posts to come). A lot of resorts are dubbing themselves '5 stars' these days, but I'm not sure how true to form some of these really are. Four Seasons Kuda Huraa delivers 5-star luxury in the true classic sense.