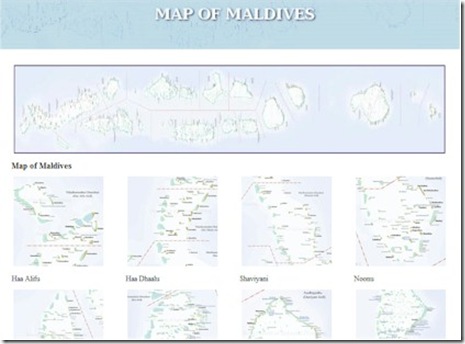 Maps are a big thing for Maldives Complete. When you have 100+ resorts on a 1,192 islands a map is pretty critical. And the unique topology is one of the things that makes the Maldives a front runner contender for the 'Seven Natural Wonders of the World'. One of my highlights of any trip to the Maldives is when the airplane finally arrives in Maldives airspace and the dappling of stunning blues start to appear in the ocean below.
Maldives Complete already features both Bing maps and resort maps on each resort profile as well as a unique 'Deep Zoom' version of the classic British Admiralty charts. Now, thanks to Francis Negrin once again, I have another to share.
The Maldives Department of Planning has posted its official atoll maps accompanied by an official resort listing on the web. Since Francis highlighted it to me a while back, I have found it extremely useful as the definitive source on resort status, names and geo information.
As Francis commented, "this collection of maps is amazing and the only worthwhile maps of maldives I have ever seen. it shows all the existing resorts with real and current commercial names shown in blue, and also in blue are all the islands set aside for resort development . It makes it easier to then go on google earth to see what the islands are like from above, or search the internet for news about new resorts opening (an otherwise quasi impossible task)… or to see what uninhabited or inhabited islands are near certain resort islands etc. and it is relatively up to date (2009)."