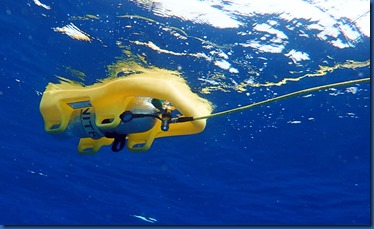 [NOTE:  This offering is no longer at the resort…an opportunity for a "not yet seen again" feature for some resort.]
Despite its fame as a diver's paradise, we didn't dive in the Maldives until about our fifth year of going there. Lori's sister did diving and Lori decided to get certified to join her when the sister came along with us one trip. Even then, I stayed up on top snorkelling with the kids. I remember one day, the kids and I were just finishing with the morning house reef snorkel when Lori was just setting out on her dive. She had to get the gear ready while we just threw on our fins and masks and jumped in. When she got back, we asked what she had seen on the dive. Sharks, morays, colourful fish, sting rays. It was all the stuff we had seen snorkelling. I continued to question why bother with all the equipment and faff of scuba diving when so much can be seen so close to the surface.
Since those days, I have succumbed and gotten my PADI Advanced Open Water and done over 60 dives there. And they have all been delightful. I still make a point to snorkel every house reef and there is still something alluring about the simplicity of snorkelling – no encumbrance, the ability to pop your head up and talk to your buddy, the sun on your back.
But I will admit that you do have to deal with the nuisance of seawater sloshing into your snorkel and being limited in how long you go underwater before you have to return to the surface for a breathe. Faarufushi's "Peter" breathing system provides the unencumbered simplicity of the snorkelling experience with the underwater breathing freedom of a scuba system. Instead of the air supply being strapped to you, it floats on the surface and follows you through an extra long regulator tube.
Another benefit of the Peter is for giving people a stepping-stone taste of the scuba experience. Many dive centres offer complimentary "Try Dive" sessions. You put on all the scuba gear and have a little underwater swim in the safe confines of the shallow lagoon. But the Peter sessions are even less effort and might serve to ease more people into the underwater experience.
The "Peter system is also featured at Sun Siyam Irufushi and Kandooma resorts, but at Faarufushi it is included in their AI package.