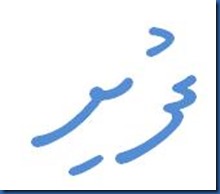 Dhivehi script for "Fushi" which means "Island"
Last year, I added a new field to the Maldives Complete resort database, "Name Meaning" in Dhivehi, but I thought I would share a synopsis of all of them for Dhivehi Language Day today.
First of all, not all resorts have Dhivehi names. The non-native monikers tend to fall in one of these three categories…
Brand Name – eg. Ayada, Conrad, Centara Grand, Dusit Thani, LUX, Robinson Club The Residence, W,
English Names – Tend to be the older resorts, eg. Cocoon, Cocoa, Taj Coral Reef, Equator Village, Taj Exotica, Full Moon, Fun Island, Hideaway Beach, Holiday Island, Lily Beach, Paradise Island, Palm Beach, Royal, Safari Island, Summer Island, Sun Island
Unknown – Despite some fairly extensive research and enquiries, a number of resorts are simply named after the islands that they are on whose Dhivehi meaning has long been lost, eg. Amari Havodda, Dhigali, Filitheyo, Gangehi, Hurawalhi, Komandoo, Kooddoo, Kuramathi, Kuredu, Maafushivaru, Milaidhoo, Vilamendhoo, Vilu Reef (if anyone does know the etymology of these names, please let me know!)
In my research, my favourite response was from the Assistant Director of Marketing Communications & Social Media at Atmosphere Kanifushi…
· "Fushi is from a variety of names specifically given to islands depending on their type/formation (eg: fushi, gili, finolhu, dhoo). Fushi is associated with larger islands, with vegetation (as Kanifushi is). The word Kani, is of old Maldivian terminology – there are other islands such as Kanifinolhu etc. its specific meaning varies in context, typically associated with water vapor-like droplets/ salt mist – we assume this may have been because Kanifushi is situated on the edge of Lhaviyani Atoll so waves crash on the Atoll Reef on the islands South-East side and caused quite a bit of salty mist sprayed throughout the day over the island – which however is not apparent at the moment as a resort, but may have been in the past. There is no exact literal meaning of older island names however – especially considering the island has been around for quite some time, however was never fully inhabited by any communities." – Ali Abdulla
Like the infamous adage that Eskimos have dozens of words for "snow" and the Chinese have a similar lot for "rice", no surprise that the Maldivians have a multitude of words for subtly different "islands".
The Maldives Complete list of Dihvehi resort names…
Amilla Fushi – Island Home
Anantara Dhigu – Tall
Anantara Veli – Sand
Atmosphere Kanifushi – Sea Mist Island
Centara Ras Fushi – Royal Island
Cinnamon Dhonveli – Fair Sand
Cinnamon Hakuraa Huraa – Reef Over Water
Club Med Kani – Large Island
Constance Moofushi – Root Island
Dhigufaru – Long Reef
Embudhoo – Island of 'Ximenia Americana' (a plant)
Finolhu – Sandbank
Four Seasons Kuda Huraa – Small Island
Four Seasons Resort Maldives at Landaa Giraavaru – Parrotfish Shifting Sands
Fushifaru – Reef Island
Gili Lankanfushi – Small Island in a Lagoon
Huvafen Fushi – Dream Island
Iru Fushi – Sun Island
Kandima – (Boat) Channel
Kandolhu – (flower found on the island)
Kanuhura – Corner Island
Kihaa – Young Coconut
Kudafushi – Little Island
Kurumba – Coconut
Medhu Fushi – Middle Island
Meedhupparu -"island that someone saw"
Meeru – Delicious
Mirihi – Yellow Maldivian Flower
Nika – Banyan Tree
NIYAMA – Bon Voyage
Olhuveli – (type of sand formation)
Reethi Beach – Beautiful Beach
Reethi Rah – Beautiful Island
Rihiveli Beach – Silver Sand
Soneva Fushi – Island
Soneva Jani – Wisdom
Thudu Fushi – The Point Island
Vakarufalhi – Plank of a Coconut Tree
Velaa – Turtle
Velavaru – Turtle Island
Veligandu – Sandbank