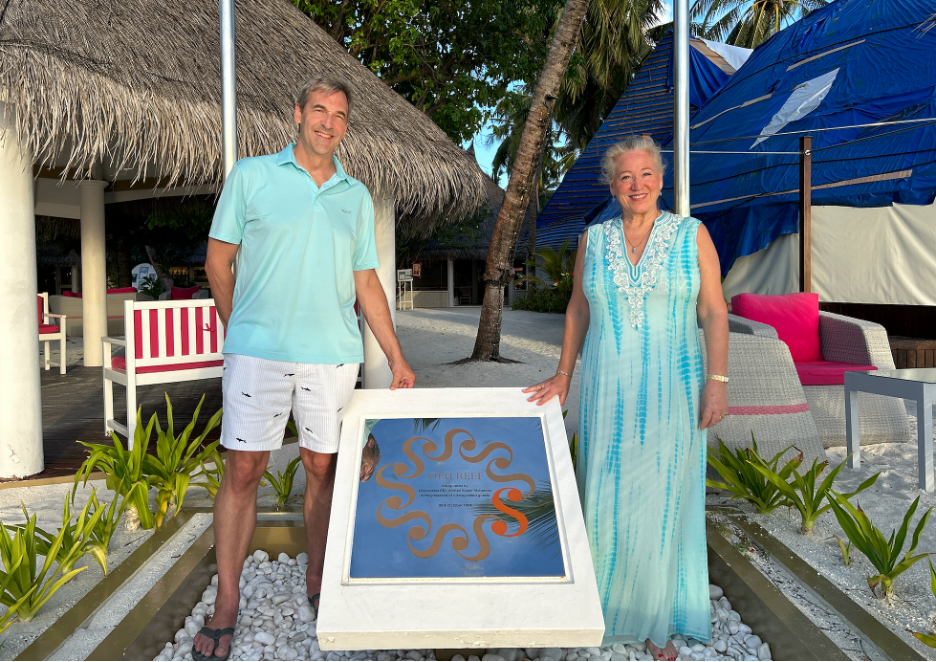 Vilu Reef is probably the resort that has most exceeded my expectations of the over 110 we have stayed at.  Vilu Reef has been around as long as we have been coming to the Maldives, ie. 1998.  It is the first of the prominent Sun Siyam Resorts.  I guess I was guilty of thinking of it as an old resort.  And I hadn't heard much about it over the years.  Also, Sun Siyam is a bit more mid-market focused (thank goodness not everyone is chasing the billionaire segment and keeping the destination affordable for mere mortals).  Its new Siyam World is very much mass market, Olhuveli is a 4+ star (with many luxury aspects), and even Irufushi is a value priced 5-star.
We thought that maybe we were being bowled over by their very hearty welcome (they are big fans of the Maldives Complete site) but looking around we observed other guests being treated with equal attentiveness. In fact, another guest got the most elaborate welcome that we have ever witnessed. Not a celebrity, but a repeater (stay tuned for her fascinating story). "Mama" (her nickname) and her husband, both from Germany, first came to the Maldives in the 90s when they were young. They loved it so much that they came repeatedly. But they stayed at different resorts every time starting at the top of the country and working their way south. Dhaalu is one of the furthest south atolls; they sampled plenty of properties. But when they came to Vilu Reef, they decided that that was it. Vilu Reef was the perfect resort for them. Her visit this year was their 41st (!). And they are quite discerning world travelers as Mama explained to me that they regularly travel all around the world. According to their very experienced tastes, Vilu Reef is a real "diamond".
I couldn't disagree. I simply can't find anything to fault it. We thought it ideal for many of our friends who have always wanted to come to the Maldives without busting their bank account, but still getting a quality experience. Vilu Reef ticks every box for a great Maldives resort – copious soft sand, vibrant reef, delectable food, and effusive service. Even the pathways had talcum soft sand (often these areas are harder). The reef had the most live coral we have seen in years. The outlets were replete with delicious offerings and even gourmet quality dishes (the dhaal was as good as the Michelin starred Atul Kochhar's "Vassu" in my hometown) and the above-and-beyond consideration of each guest was remarkable even for the Maldives.
But I must say, the cherry on the top of the cake was an extra special occasion that we have never experienced – blue diamonds on the beach. We've all seen the Instagram images of the glowing blue plankton at the water's edge. This intensity of colour is much rarer than social media would have you believe and even those images are enhanced quite dramatically in post (much like the starry heavens shots). At Vilu Reef, the plankton didn't glow in blue swathes (there needs to be more concentrated plankton in the water for that which happens at a difference season), but instead landed on the beach with each diminutive wave littering an array of dazzling bright blue dots like little gemstones (or stars) along the water's edge. Like seeing a swarm of aquatic fireflies beaching themselves. Absolutely magical.