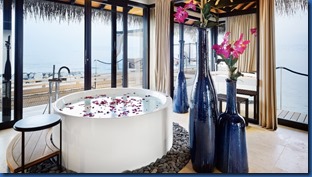 Happy Valentines! Instead of showering your beloved with gifts and tokens of love, why not let her bathe in decadent luxury to soak in all your adoration. And instead of sipping champagne, Velaa is providing a special immersive Valentines experience were you can *be* the glass of champagne:
"The romantic package's pièce de résistance is all about sparkling wine. The interlude will quite literally bathe you in bubbly. That's because the package comes with a bonkers couples bath filled with no less than 600 liters of Delamotte Champagne."
Rates for the package start at $200,000 for the first night and $12,000 per additional night.
Happy Vellantines!