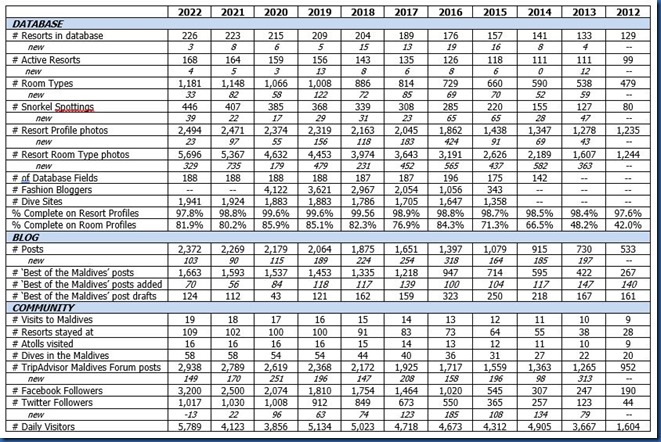 The 14th anniversary of Maldives Complete and time for my customary look at the site numbers and share a few perspectives informed by another year of Maldives fanboying…
Post COVID Catch-up: Our July trip represented the first time we have ever visited the Maldives twice in a 12-month period (being on the heels of our November 2021 visit). The trips gave us a chance to re-stock our "Best of the Maldives" larder for posts and generally keep packing the database with material.
Lowest Resort Increase: 4 new active resorts is consistent with the previous two years in being quite low and likely reflective of the post-COVID impact on development plans with both financing and construction logistics impacted.
No dives: Lori and I had just the month before taken a 7 day live-aboard trip in the Galapagos diving 4 times a day and seeing the some of the most astonishing underwater sights on the planet (eg. while we never saw any hammerheads at Hammerhead Point off Kuramathi, a school of 300 hammerhead sharks swam by us at Darwin Island). So we decided to just enjoy the snorkeling and the sunshine in July.
Twitter twilight?: This past year my Twitter engagement completely dropped off. This was not a big surprise as Twitter has been increasingly becoming simply a broadcast medium for very high profile individuals. In fact, the Musk acquisition might just be the final straw for me to depart this increasingly disfunctional and toxic platform.