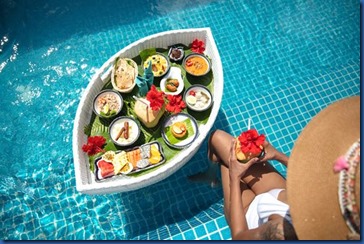 Floating breakfasts are becoming a staple of the food-photo-ing Instagrammers at resorts. Kandima was one of the early pioneers of the buoyant buffet and now they have gone a step further in distinction with a special Maldivian fare option:
"We not only offer the bucket list Floating Breakfast, but we also offer an oh-so-authentic Maldivian Floating Lunch! Savour a truly private floating lunch in your villa pool bursting with exotic Maldivian flavours for an ultimate exclusive experience"
Just right for Lori who Maldivian favourite mashuni. Also, this post has prompted me to add the new tag "Floating Dining" as well as "Maldivian Cuisine" (which I was surprised that I hadn't done yet).