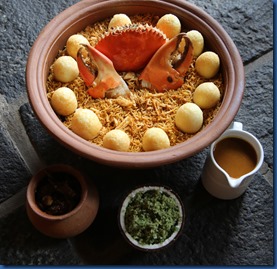 Ocean Indian cuisine in the middle of the Indian Ocean. Hard Rock and SAii Lagoon's Ministry of Crab serves up a true delicacy crab biryani which we thoroughly enjoyed during our visit there:
"Cooked with 1.5kg of the finest Mud crab from Sri Lanka, this is the largest deshelled crab dish on our menu and preserves the ideologies of the traditional biryani with our own take on it. Each clay pot serves 6, includes 12 eggs and is accompanied with a Fresh Mint Sambol, hand ground on our Miris Gala and the Classic Malay pickle."
I do love when resorts bring local flavours to luxury ingredients. With this post, I am adding a "Crab" tag so that this crustacean can take its place alongside its culinary crustacean, Lobster.