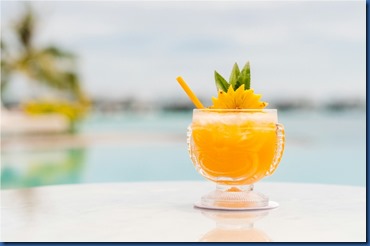 Tiki cocktails exemplify the quirky fun extravagant side of cocktails and so no surprise that LUX North Male Atoll offers an extensive collection:
Tiki Tonka – dark rum, pineapple juice, ginger juice, orgeat syrup, vanilla syrup
Zombie Return – white rum, dark rum, apricot brandy, pineapple juice, lime juice
Hurrican – white rum, dark rum, passion fruit juice, lime juice, simple syrup, grenadine
Bleu Angel – white rum, Malibu, Curacao, coconut cream, pineapple juice
Silver Surfer – tequilla silver, lime juice, lychee, rosewater simple syrup, ginger beer
Guduguda – gin, watermelon juice, lime juice, homegrown mint, sugar syrup
This week Jumeirah announced that it was taking over the management of the LNMA property. I'm sure that they will instil their own branding and twists on the offering, but many of the establishments will continue operating. So hopefully you can keep enjoying such playful concoctions.