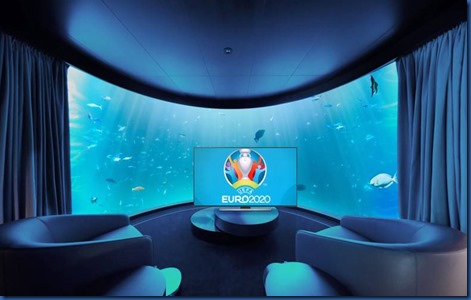 Under water no one can hear you scream. Or sing "Sweet Caroline" at the top of your lungs. And so you can at Conrad Maldives Rangali for today's big match:
"Conrad Maldives Rangali Island, a luxury five-star resort, is allowing two people the opportunity to watch the match from its Muraka villa, which is more than 16 feet beneath the Indian Ocean, and the world's first underwater hotel residence. The package includes a two-night stay, during which the UEFA European Football Championship final will be beamed onto a screen that sits in front of a glass wall looking out onto the ocean's abundant marine life."
Also, perhaps most versatile underwater room in the Maldives as Ithaa serves as a restaurant and has served as a bedroom (mind you, with kick off at 1:00 am and if England play their characteristic "control" game, the subaquatic spectators mind find themselves nodding off).