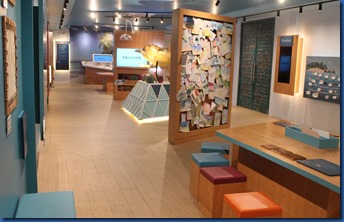 If you want an overview of the Maldives destination with more an experience than a guide book, then Hard Rock and SAii Lagoon (actually sited at The Crossroads):
"The Maldives have long been the crossroads of the world, where cultures meet, and where explorers, traders and pioneers from a myriad of different cultures have weighed anchor and helped to define the extraordinary culture and heritage of the islands. This unique attraction space, covering 500 square metres, uses stunning designs and interactive displays to explore the Maldives rich history, marine biodiversity and how local arts and crafts have shaped the islands' unique cultural identity. This unforgettable educational experience works closely with the local community to promote their way of life and showcase the handicrafts of this remarkable island nation."
The exhibit is a proper professional museum with slick presentation and exhibits of everything above and below the water. We received a tour of this interactive and artistic gallery by its manager Iyran. It is so packed with educational displays that even local Maldivian school children visit it.