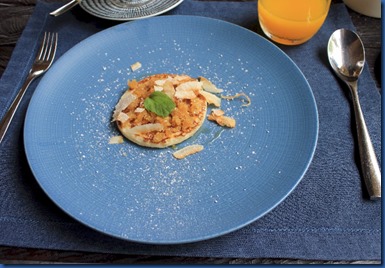 My biggest laugh this week was a gem of a line in the bio-pic flick "Judy" (about Judy Garland) which during a visit to London says, "You ever tried a crumpet?…Mm?…It's like a pancake that's had the living sh*t kicked out of it" (I couldn't have put it better…if you visit London, don't order the "crumpets" no matter how daintily British they sound). As an American by upbringing, we take our pancakes extremely seriously. I have yet to find the level of griddle cake quality in the UK that is standard fare in the USA. And, the same is true for most of the chewy circles serves at some of the resort buffets. Until we came to Joali. They have a special a la carte pancake menu including some savoury versions that are simply delicious:
Spiced Jaggery, fresh coconut
Cinnamon, prunes, honey
Banana, yoghurt, strawberry, mint
Chocolate, walnut
Exotic tropical fruit
Mixed berry, sweet mascarpone
Savory tuna tapenade, olives, remoulade
Sweet corn, cherry tomato salsa, crispy bacon
I had the spiced Jaggery (an unrefined sugar in Asia) and it was truly delicious (see photo above). Or as Lori and I would say for recipes we like, "a do-again". A more-ish classic dish with a distinctly Maldivian twist.