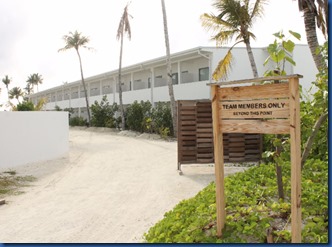 International Workers Day today. Lately, we've been celebrating a lot of unsung front line and key workers keeping the cogs of society going during these difficult times. As it happens, many resorts still have guests stranded at their properties which means that the workers have to keep going despite limitations on their travel, supplies and other essentials to a smooth operation (LUX North Male still has a number of guests from before the lockdown).
In the past, staff quarters were secondary considerations with typically steerage class standards. Often these quarters were tucked away hidden from the guests. All of the working environment of the resorts' staff has steadily improved over the years, but I was particularly struck by the high standard of LUX North Male Atoll's staff facilities.
First of all, they were quite out in the open. Not in the centre of the island hidden, but quite central to daily activity of the resort. And while segregated by some walls, the main entrance (see photo above) is quite open. As a result, you can see that the staff facility is a handsome, modern construction with the clean lines echoing the design aesthetic of the luxury accommodation just yards away.
Great to see quality of staff accommodation rising as the quality of the properties do in the Maldives.