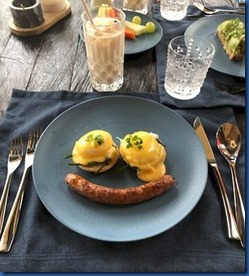 Photo courtesy of Mosshops00
If you are hunting for a whole basket of breakfast egg options, the Joali offers more specialty egg dishes a la carte than any resort we have visited. Of course, the ubiquitous egg station at resorts offers a variety of custom preparations, but they tend to be basic frying and omelette options. Joali offers a range of eggs benedict as well as omelettes with some unique recipes and ingredients:
Chicken Benedict
Eggs Avacado
Benedict with Benefits
Russian Rhapsody
Smoked Salmon Benny
Mykonos Omelette
Veggie Omelette
Chef's Omelette
Pan Fried Top Eggs
Eggs-ceptional!