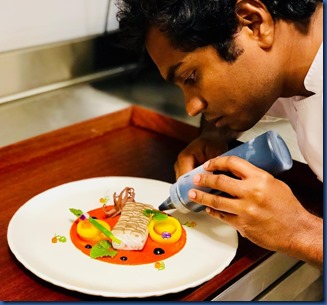 Today is official "Don't Go To Work Unless It's Fun Day" (no joke). But for most of the world during the pandemic, every day is "Don't Go To Work Unless You Are a Key Worker Day". The world is getting on top of the coronavirus scourge by reducing its transmission until vaccines, treatments and testing is more widely available. That has meant all the resorts rightfully shutting down. So instead of visiting the real thing, people are having to settle for the digital, virtual equivalents with screen time skyrocketing.
While the Maldives geotag is dominated by fashionistas in swimsuits, one of the most common subjects on Instagram is photographing your food. If you are staying at Faarufushi, you won't be able to resist a post yourself if you dine at Lagoon (the resort's Asian tapas restaurant) and feast your eyes (and your Followers' eyes) on one of Mohamed Adil striking dishes. And if you don't have your camera, then you can repost one of Adil's pictures on his very on fleek feed.
Hotelier Maldives featured a profile on him earlier this year. Hotel Asia's Best Maldivian chef 2018 described his background, "Art was something I always saw when I was growing up. Mostly paintings by my dad, but I never thought of art on a plate and that's where I found myself." His mentor Executive Sous Chef Bir Kumar Yadav first worked together at Four Seasons Landaa Giraavaru where he started as a kitchen steward. From there he has skyrocketed in the culinary world to recently winning the Gold Medal in the Dubai World Summit. Here is his story in his own words:
What atoll are you from? – Born in Ari Atoll, located towards the west of the archipelago, brought up in Seenu Atoll (Addu Atoll).
What was the first dish you ever cooked for someone else? – I clearly remember the first dish that I cooked for my executive chef as a practical exam. It was a grilled chicken breast with homemade crispy fries, sautéed peppers and hollandaise sauce.
What's your favourite unsung ingredient? – Unsung ingredient would be cumin as Ground Cumin has a very distinctive flavor with an earthy, nutty, spicy taste with a somewhat bitter undertone and a warm, penetrating aroma with hints of lemon.
What's your signature Maldivian dish? – Coming to a signature Maldivian dish would be something I created back in 2019 for a culinary challenge. The dish had various components and all of them are favourites to many locals. A fillet of red snapper grilled over coconut coal, breadfruit curry, tempered banana blossom with smoked tuna, fried moringa leaves, fried onion tuile served with a savory doughnut.
What has been your most ambitious dish? – My most ambitious dish was one that I made for a culinary challenge. I knew that I wanted to go with beef and the rest was unclear. So I took a piece of paper and wrote down all the things that would go well with beef. Then I started crossing out the ingredients until I got the perfect combination. First I worked on perfecting the taste. Then I moved on to the presentation of the dish. The whole process took me over 30 attempts to create the dish which consisted of Wagyu striploin paired with cylinder of potato fondant filled with wild mushroom duxelle, decorated with shimiji mushrooms, onion flan, sweet unagi, garlic sautéed baby spinach, tea smoked cauliflower puree, black garlic jell and a rich veal jus.
Has there been any memorable failures where something you tried didn't work? – Looking back, there would have been many failures. Some dishes were not executed to the standard that I wanted to bring out. However, I kept working on perfecting those dishes and that practice is what brought out the ability in me to a higher level. I don't consider them to be failures but as something that I can learn and gain from for the future.
What was the best advice you've received as a chef? – The best advice that I got is not to constantly look at the working hours and the amount of pay and instead to keep looking at the blood and sweat as a stepping stone to greatness.
If you could do your career over again, what would you do differently? – If I could redo my career all over again, I would start it as soon as I could. Until I was 19 years of age, I didn't know what I wanted to do with my life. If I had known sooner, I could have taken a more scientific focus throughout my studies in school as cooking and science goes closely together. I wish I knew what my career was going to be so that I could have prepared to start my career beforehand.
Adil is definitely someone who loves his job and let's hope he can resume working it as soon as possible.
Paradise on a platter!