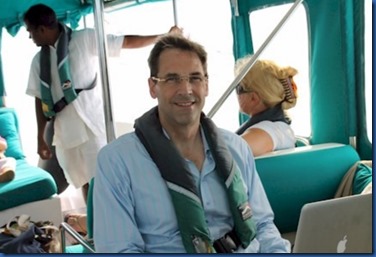 While the previous post laid out the fundamentals of "Influencer Collaboration" straight from the authority of a leading marketing director in the Maldives, I wanted to share some of my own personal perspectives on the subject. At first, I thought that I might do a larger uber-piece on the subject that combined last week's "10 Things Luxury Resorts Look For In An 'Influencer Collaboration'" with these tips, but it got too big and unwieldly and the points really address slightly different dimensions (the previous one is more about fundamentals, while this one is more tips).
My own tips come from years of research tours to the Maldives where I have experienced the entire gamut from paying completely full whack rack rates (in fact, paying a premium because I was only there for a day or so) to getting a completely comped VIP treatment (usually from resort management who just love the Maldives Complete website and its general benefit to Maldives tourism as much as expect direct benefit to their resort).
But such collaboration has been challenged by the tsunami of wannabe Instagrammers trying to blag freebie trips on the basis of how cute they look in a bikini and how good their boyfriend is with an SLR.  If you are an aspiring blogger looking to tick the Maldives off your bucket list without shattering your personal funds, then here are a few suggestions…
Be Realistic – You need to have at least 10k Followers to even be looked at by a Maldives resort marketing manager.  50k is probably a better cut-off (though this is the point where it can be more flexible depending on some of the other listed considerations).  Even then you have lots of competition (more than 1,500 Instgrammers/Bloggers with Followers over 10k visited the Maldives in the past 3 years.  In fact, over 160 bloggers with more than a million followers visited).
Sell the Content – Mind you, content is commoditizing at a rapid pace as resorts are reaping the benefits of mountains of free, crowdsourced content of every geo-tagged post.  But if you have a distinctive angle to your content – eg. special editing effects, special writing or photography style special focus area – then the property might be more interested in getting that content produced (that it can re-use and refer to) than your less interesting Followers exposure.
Avoid the Cliches – Thousands of blogs posts have waxed eloquently about the palm trees and pina coladas.  Try to avoid the cliché topics (eg.  colours of the ocean, white sand, sunny weather, charming service) unless you can lend a truly poetic articulation or unique perspective.
Sell the Engagement – Sure, you've got thousands of Followers.  So does everybody.  But do your Followers actually respond to your posts considering to visit themselves?  Or are they just life-style porn voyeurs sitting on their couch without even a passport?
Be Clear About Your Proposition – Media pack, stats, examples, clear proposal of what you will produce (see the previous post).
Don't Get Greedy – Marketing managers are rife with stories of hubristic bloggers with a few thousands followers looking for an all-expenses paid, VIP-treatment week long stay for them and their boyfriend in exchange for a single photo on their Instagram feed.  Maybe look for a bit of a discounted rate for a couple of day stay and propose a wide range of content and posting.
Understand Resort Economics – Some things like buffet meals and rooms in low periods of the year can have negligible marginal cost for the resort by having you there so cutting you a break is easier.  But other items – eg. fuel consuming transfers, alcohol, a la carte meals, spa treatments – do cost them money and so they are much more constrained on how generous they can be.
Know the Resort's Market – If you are a relatively small blogger on the world stage, but you are a pretty prominent one in Denmark, then find the resorts that get a good number of guests from that market (eg.  Canareef has a regular

charter from Denmark

).

Look for Unsung Resorts – Everyone wants to go to the fanciest 5-star resorts, but there are about 140 resorts and a number of the less glamorous ones get decidedly less inundated with requests and so might be more open (or at least less cynical and jaded).  Don't approach One & Only Reethi Rah unless you are an A-list red-carpet celebrity (and even then you probably won't get too much notice since A-list celebrities are OORR's core customer base).