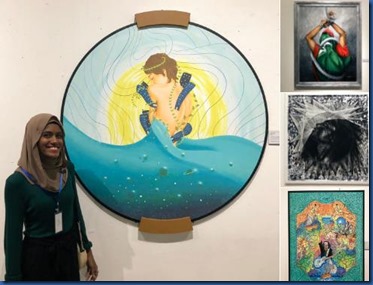 Kandima supports the arts beyond their resort and in the community itself with their KUL Initiative:
"The KULA art initiative was launched on the 5th of October 2017, with a vision to promote and nurture local artistic talent and creativity and essentially open up new horizons for the local art community in the Maldives…The KULA Initiative will also support local schools and artists with equipment, grants and master/classes… With its key component, The KULA Art Festival is the first of its kind annual event to be ever hosted in any resort in the island nation at such a large scale, turning the entire resort into the trendiest, most happening art centre in the Indian Ocean. Every year Kandima Maldives invites over 20 local artists specializing in various mediums including digital, coffee, acrylic, henna, spray paint and local crafts, to unleash their inner Picasso! KULA means 'colours' in Dhivehi, the Maldivian language."
And Kandima is setting out to break the Bohemian "starving artist" caricature by putting money where its mouth is to support these artists with tangible benefits:
"Kandima will give $1 per occupied room night to the KULA Fund and guests can also make their own donations. The KULA fund will also prosper and increase from the artists themselves. When a piece of art is sold, the artist will contribute a small percentage of the sale to the KULA fund to help it grow. The remainder goes personally to the artist, with no profit to Kandima. "
The artistic community in the Maldives has blossomed in recent years. Far beyond the Bob Ross-style painted coconut husks and tarted up imports from China, Maldives art has become gallery quality with a generation on the vanguard of the Maldivian art scene creating stunning depictions and interpretations of the paradise in which they live and in which the rest of the world is enthralled.
And the showcase for these works is the "Unveiling Visions" exhibits sponsored by Kandima which is taking place right now in the capital Male:
"Kandima Maldives is hosting host regular exhibitions and exciting art performances by local artists in the in-house Aroma Art Studio, which is set on the edge of a natural lake inside the island. The venue gives both guests and artists the inspiration and calm space they need to create their masterpieces. The exhibition will feature works by 50 Maldivian artists of ages 18-35; under 6 main categories – painting, drawing, calligraphy art, 3d installation, digital installation and sculpture. Launched in 2017, 'Unveiling Visions' will offer live art sessions, workshops, artist talks and fun-filled events for children. Unveiling Visions' will offer live art sessions, workshops, artist talks and fun-filled events for children. Kandima Maldives will invite the top 15 artists to participate in its annual KULA Art Festival to be held on 28th December 2018. The festival is a perfect marketing platform for showcasing the Maldivian talent to the international audience and will be held for the second time since the resort opening in 2017. All of the inspiring art pieces created during the event will be available for purchase at the in-house KULA Art Studio at Kandima Maldives."