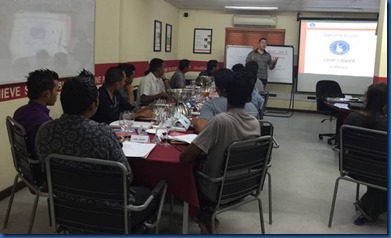 May Day, May Day…I need help…with my wine choice! May Day today is better known as a celebration of workers. Each year this day, I highlight an initiative that a resort is making in its people. This year is One & Only Reethi Rah who certify all their sommeliers through the internationally recognizes WSET standard:
"This is a professional course and there is different levels, starting at Introduction Level 1 to advanced Level 4. All our sommeliers are certified thru this global group as well as about 20 other F&B staff members with more being certified next year."
Raise a glass to all the resort workers who help make the Maldives even more of an experience of paradise. At Reethi Rah, "S.O.S." stands for "Sommeliers Outstanding Service".