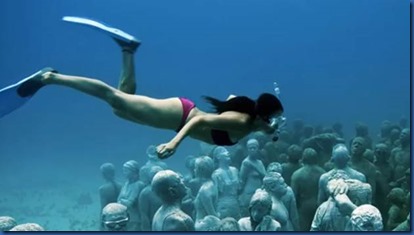 International Sculpture Day today. And new resort Sirru Fen Fushi is launching a world class sculpture exhibit with the most distinctively Maldivian twist – it is underwater.
"The sculptural installation on Sirru Fen Fushi will offer visitors a unique, cultural eco-art attraction whilst creating the foundations of an artificial reef to enhance the underwater ecosystem. The centre piece will be the Coral Cube, the worlds first semi submerged art space, a portal to the underwater realm offering visitors ephemeral encounters with the natural beauty beneath the water's surface, delivering an other worldly experience that illustrates the connectivity of man with nature, a hybrid organic form in harmony with its surroundings, a seamless link between the land and the ocean, combining two disparate wonders, one created by man and one designed by nature."
This creative installation is another gratifying "Finally Seen" for me as I first suggested such an exhibition 4 years ago with Part 4 of my "Not Seen Yet" series (#7).