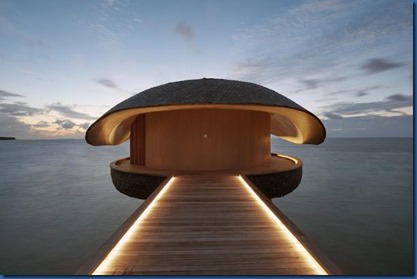 Someone who needs no straw in the Maldives is the legendary whale shark. It cruises the ocean with it's up to 5 foot wide mouth completely open actively sucking in seawater which it runs across filter pads on its gills which sift out plankton, fish eggs, baby shrimp, etc.
At St. Regis Vommuli, you can get sucked into the mouth of the aquatic beast to quaff your own liquid nourishment at their award winning "Whale Bar"…
"A tropical bar in the Maldives designed to make guests feel like they're in the mouth of a giant whale emerged the big winner at international design awards held in London. The Whale Bar, St Regis Maldives Vommuli Resort, dreamed up by the Singapore and London-based design group WOW Architects l Warner Wong Design, beat out luxury hotels, residences, and restaurants around the world to be declared the most beautifully designed space at the SBID International Design Awards 2017. From the outside, the bar's distinctive shape recalls the carcass of a giant whale shark. Inside, guests sip on cocktails against light-oak interiors, a soft neutral palette and Maldivian art."
The whole concept reminded me of a tradition I read about when I first visited the Maldives for coming-of-age young men. Boys, often no more than 13 years old, would jump off a boat with a rope in hand, free dive into the water where a whale shark was swimming, SWIM INTO THE WHALE SHARKS MOUTH, and then OUT ITS GILLS, hence lassoing the fish. Young boys were the just small enough to pull off this crazy feat. I would certainly consider someone to have proven their "manhood" if they did such a thing. Not surprisingly, the government prohibited this practice years ago because too many young lads were drowning in the effort.
I would much rather toast my arrival at manhood at the Whale Bar, methinks.
(With this post, I've added the new topic tag of "Design".)