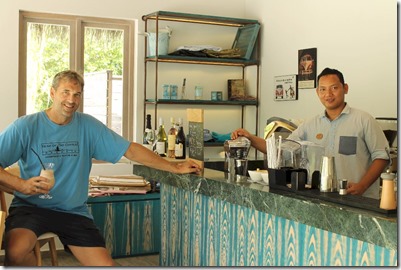 I am a bit of a milk shake (or "frappe" as they call them in New England where I grew up) connoisseur. The "Milk Shake Bar Kid" if you will. At university, my daily routine included a late night run to Brighams for *two* chocolate malted shakes (with an egg for extra protein and extra creaminess…I was doing lots of sport and this was a time before protein bars and smoothies). To this day, I make myself a milkshake at least once a week. The proper kind made with ice cream (the British have some weird things called "milk shakes" that are mostly literally milk shaken up).
I grew up enjoying soda fountain shakes at the local drugstore or "five and dime". Shakes have made a bit of retro-resurgence with the rise of gastro-burger joints including the eponymous "Shake Shack". So it was a charming trip down memory lane to stroll into Finolhu's own "Milk Bar". Of course, I had to go for the classic chocolate.
They do a range of smoothies and freezing cold drinks to slake the tropical thirst. They even offer a range of protein powders.
Damn right it's better than yours.